For the Defence VOL. 37, NO. 1 – Available
Attention CLA members! The latest issue of For the Defence will land in members mail boxes any day now*. CLA members can also access the latest issue, as well back issues since 2010, in the members only section. If you have misplaced your user name and password, please go to https://criminallawyers.ca/lostlogin.cfm and enter the e-mail address you have on account with the CLA.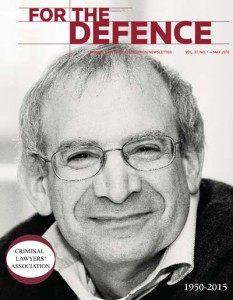 Included in the latest issue:
Memories of Marc Rosenberg


by The Honourable Mr. Justice John Laskin

The Finest of Men


by Marie Henein

Marc Rosenberg: An Iconic but




Humble Criminal Law Judge and Scholar


by Don Stuart

The Exemplary Career of Marc Rosenberg


by The Honourable Mr. Justice Philip A. Downes

G. Arthur Martin Medal Criminal Justice Award:


Mark Sandler

When Worlds Collide: A Look at Key Issues When




Simultaneously Litigating Civil and Criminal Proceedings


by Justin H. Nasseri

Issues Facing the Professional as Defendant


by Tom Curry and Andrew Porter

Protecting Your Client's Right to Sue Police and




Public Authorities: Avoiding the Pitfalls


by Asha James

A Primer on Civil Forfeiture Under Ontario's Civil Remedies Act


by Justin Safayeni

Cross-Examining Police Witnesses:




Thinking Outside the Tool Box (Part II)


by Michael Edelson C.S.
* Note, the latest issue was mailed to all CLA members who had renewed their membership as of June 15, 2016 to that address on file with the CLA at that time. Those who renewed after June 15th will be mailed a hard copy of the issue shortly. Individuals who have yet to renew will be mailed a hard copy once their renewal has been received.
6,599 responses to "For the Defence VOL. 37, NO. 1 – Available"