Live Virtual Presentation: 2020 G. Arthur Martin Criminal Justice Medal Recipient is Philip Campbell
Date: Thursday, November 5, 7 to 8:30 p.m.
Live Virtual Presentation: 2020 G. Arthur Martin Criminal Justice Medal Recipient is Philip Campbell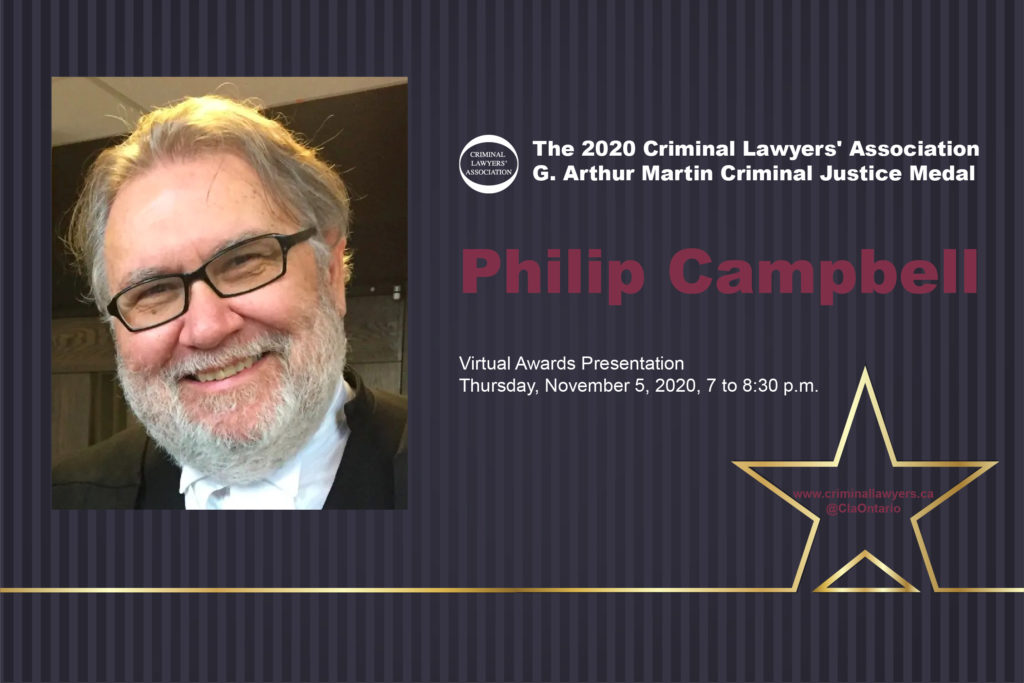 The Criminal Lawyers Association (CLA) has awarded the prestigious G. Arthur Martin Criminal Justice Medal to Philip Campbell.
The Martin Medal was struck in 1989 to honour Goldwyn Arthur Martin, a nationally prominent criminal lawyer and eminent jurist. It is awarded in recognition of lifelong achievement and sustained commitment to the principles and advancement of criminal justice in Canada.
Noted for his ethics, professionalism, mentorship and advocacy, Mr. Campbell is being recognized for his career at the bar and his contribution to the administration of justice. He has acted as counsel on a number of notable cases including the exoneration of Steven Truscott in 2007, the exoneration of Glen Assoun in 2019 and the 2003 appeal in R. v. Brown, the case that set the Canadian standard for establishing racial profiling by the police. The Martin Medal will be presented to Mr. Campbell at a virtual award presentation to be held on November 5, 2020.
The presentation will include:
Welcome and introduction by John Struthers, President, Criminal Lawyers' Association
Presentations by several prominent legal professionals, colleagues and friends of the recipient to tell you more about Philip Campbell and his achievements. Presenting:

John Fitzmaurice
Maureen Ball
James Lockyer, 2004 G. Arthur Martin Criminal Justice Medal Winner
Paul Copeland, 2007 G. Arthur Martin Criminal Justice Medal Winner
Justice Matthew Webber, Ontario Court of Justice
Michael Dineen & Zachary Kerbel
Justice Shaun Nakatsuru, Ontario Superior Court

Presentation by Philip Campbell who will discuss criminal justice.
LIVE Q&A with Mr. Campbell
Previous winners of the medal include G. Arthur Martin himself, John Robinette, Edward L. Greenspan, Marlys Edwardh, and James Lockyer as well as former Supreme Court of Canada Chief Justices Antonio Lamer and Beverley McLachlin, along with prominent justices from all levels of the judiciary and defence counsel from across the country.
Join us on November 5, at 7 p.m. Participants are invited to submit questions in advance for consideration during the event. Please submit your questions by November 1.
This event qualifies for one hour and 30 minutes substantive. The event may be recorded.
FREE for current CLA student members
$10 plus HST for Junior Active and Junior Observer members
$15 plus HST for Senior Active, Senior Observer and Affiliate members
$30 plus HST for non-members
SPECIAL INSTRUCTIONS:
A link to access the live virtual event will be emailed to registrants at least 48 hours prior to the event date. The link will be sent to the email submitted when registering for the event. Be sure to check your spam/junk folder. If you have not received the link to the webcast by 9 a.m., November 5, please email support@criminallawyers.ca. It is the responsibility of the registrant to make sure they have the access information.
A It is up to each registrant to ensure they have a strong internet connection prior to the event. Please be sure to test before 7 p.m. on the day of the event.
Chrome is the best browser for accessing the event. Should you have any issues accessing the event, please try:

Refresh your browser;
Try an incognito window;
Close any programs/windows other than the webcast;
Check your firewall settings as they may be preventing access to the webcast.

The CLA will do its best to manage any IT issues during the webcast, but please note that individual participant computer settings and internet connection are out of our control. We will do our best to assist when possible. Should you experience any issues while the webcast is happening, please email web@criminallawyers.caand we will do our best to assist right away.
There are no refunds.