Criminal Law Hot Topics #2 : The Impact of the Trucker Convoy on Civil Liberties and the Practice of Criminal Law
Date: Monday, February 28, 2022 via ZOOM from 6 to 7 p.m.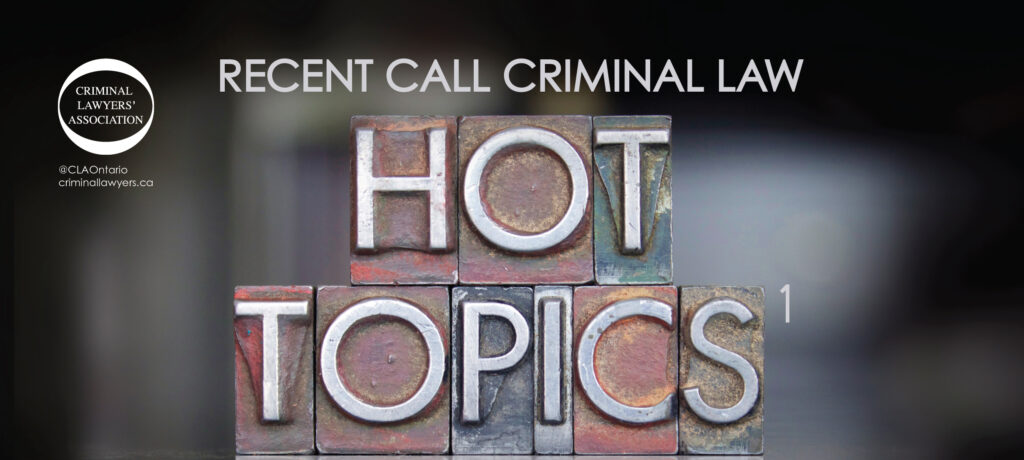 Please join the CLA Recent Call committee on Monday, February 28, 2022 via ZOOM from 6 to 7 p.m. 
FEATURING:
Frank Addario, Addario Law Group, Past President of the Criminal Lawyers' Association (Toronto)
Michael Spratt, Abergel Goldstein & Partners LLP (Ottawa)
The recent events involving the Trucker Convoy shook Canadian society and brought Canada to the center of international news. For criminal lawyers, this incident raises important ethical and practical issues to which there are no easy or clear answers. Maybe there are no answers yet to many of these questions and lawyers will have a role to play in finding them. For that reason, we need a forum to discuss these issues. 
Although on short notice, the Recent Call Committee is hosting its second Criminal Law Hot Topics event with distinguished lawyers, Frank Addario and Michael Spratt, to discuss the recent events in Ottawa. This Hot Topics event is open to all CLA members due to the importance of the issues that will be discussed.
Mr. Addario and Mr. Spratt will be discussing the "Cab Rank Rule", defending political cases, the possibility of being associated with your client's cause, the importance of civil liberties for defence counsel, proportionality in bail cases (specifically around Tamara Lich and Pat King), a discussion of the Emergencies Act, its implementation here and future implications for its use for other causes.  
Mr. Addario and Mr. Spratt will be interacting with participants and opening the floor for a discussion on different viewpoints and what the recent incidents means for the future of other protests.
Open to all CLA members for FREE. 
45 minutes of professionalism. The session was NOT recorded.