6th Annual Recent Call Conference
Date: Saturday, November 21, 2020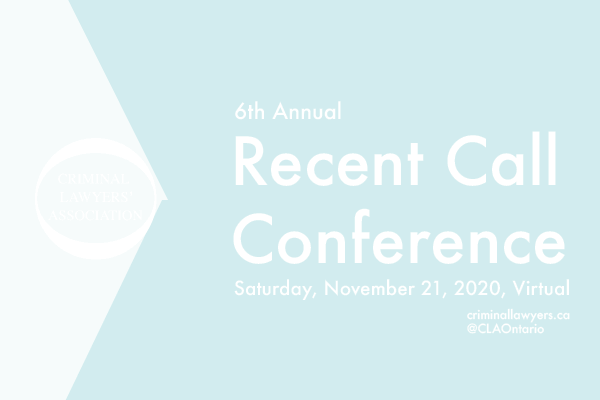 RECENT CALL CONFERENCE DETAILS:

Saturday, November 21, 2020
Virtual
The Recent Call Conference is recommended for individuals in their first seven years of practice. Everyone is welcome to register including students, articling students and non-members.
This program provides opportunities for interactivity. Each panel of speakers will invite and answer questions from attendees. In addition, between the formal CPD sessions, attendees will be encouraged to mingle with speakers to follow up on any issues they would require further information on. There are scheduled breaks in the agenda to facilitate discussion and engagement between attendees and speakers.
Dates and Times:
Please note the times below may be updated at a later date. The final agenda that will be released with the Virtual Hub (refer to webcast access information below) will have the final times noted. We will do our best to remain as close as possible to the following:
Saturday, November 21 – 9 a.m. to 1 p.m.
CPD Confirmed!
Professionalism Hours: 1 hour and 20 minutes
Equity, Diversity and Inclusion (EDI) Hours: 45 minutes
Substantive Hours: 1 hour and 30 minutes (if hours are not needed for EDI and/or professionalism they can be added to
---
WEBCAST ACCESS
Please note registration includes access to a "Virtual Hub" that will provide access to materials, agenda, details on how to access the live webcast and pointers to ensure access works for you. We will be using a platform call Demio for our Recent Call Conference (same platform as used for the 2020 Spring Virtual Conference).
All presentations will be recorded in advance. In most cases, registrants will be able to submit questions directly to the speakers towards the end of each presentation.
Only those that register in advance can claim CPD.
Access information to the Virtual Hub will be emailed to all registrants at least 48 hours before the start date and will be sent to the email address entered when registering.
It is up to the registrant to make sure they have the Virtual Hub link and test access before the conference start date. Be sure to check your spam and junk boxes. The CLA is not responsible for technical issues with each individual's particular access but will make every effort to problem solve any issues brought forward in advance of the conference proceedings.
The recordings of the conference MAY be available after the conference and placed on the Virtual Hub page AFTER the conference for registrants to access.
Access to the Virtual Hub will be open for 30-days for all Recent Call Conference registrants. We will NOT sell access to the Virtual Hub – it will only be accessible to those that register for the conference in advance.
The Recent Call Conference DRAFT agenda is now available. Please note all speakers and topics have been confirmed, but exact times may be altered.
WELCOME AND OPENING INTRODUCTIONS
9:00 to 9:05
CORRECTIONS PANEL
9:05 to 9:50
BAIL PANEL
9:50 to 10:35
Simon Heeney, Assistant Crown Attorney, Ministry of the Attorney General
Justice of the Peace Karen Valentine, Ontario Court of Justice
BREAK
10:35 to 10:55
KEYNOTE: JUSTICE BREESE DAVIES
10:55 to 11:25
The Honourable Justice Breese Davies, Ontario Superior Court of Justice
The Bottom Line: Tips for Marketing Yourself and Managing Your Books
11:25 to 12:10
RACE: SYSTEMIC ISSUES AND ISSUES PARTICULAR TO YOUR CLIENT
12:10 to 12:55
CLOSING REMARKS

12:55 to 1:00
---
REGISTRATION
As a result of the impact of the pandemic on our members, we have reduced the Fall Conference Registrations fees for members significantly this year.
$10 plus HST: CLA Student Members
$15 plus HST: CLA Junior Active & Junior Observer Members
$20 plus HST: CLA Senior Active, Senior Observer & Affiliate Members
$125 plus HST: Non-members*
To register online (visa, mastercard and amex accepted), please go to https://members.criminallawyers.ca/event-3983558. Registrations are also accepted over the phone during business hours (Monday to Friday, 9 a.m. to 5 p.m.) with credit card payment provided. To register over the phone, please call 416-214-9875.
* Not a current member of the CLA? Find out more about membership by going to https://members.criminallawyers.ca/joinus
---
SPONSORS:
LEAD: