4th Annual CLA Recent Call Conference
Date: November 11, 2018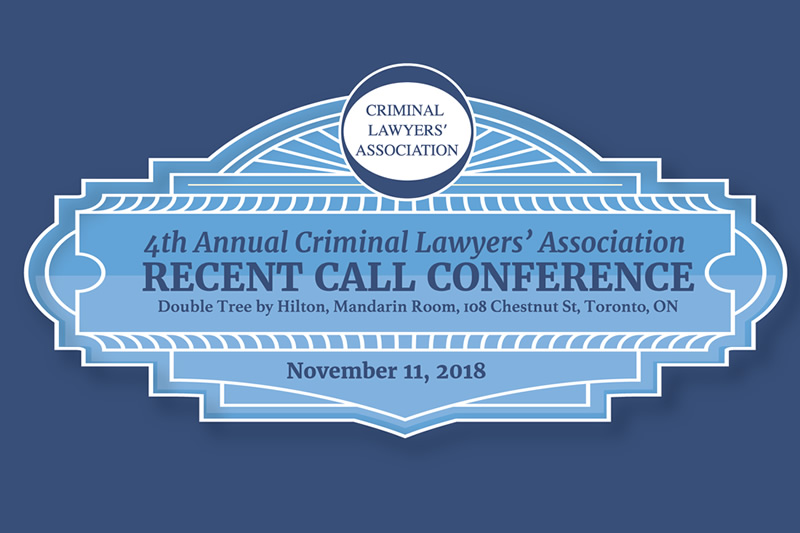 RECENT CALL CONFERENCE DETAILS: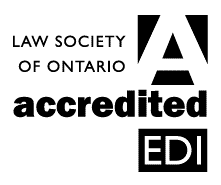 This program contains 2 hours and 35 minutes of Professionalism Content.
This program contains 35 minutes of EDI Professionalism Content.
This program is eligible for 3 hours and 50 minutes of Substantive Content.
Sunday, November 11, 2018, 8:30 a.m. to 4 p.m., Double Tree by Hilton, Mandarin Room, 108 Chestnut St, Toronto
IN PERSON OPTION ONLY
The Recent Call Conference is recommended for individuals in their first seven years of practice. Everyone is welcome to register including students, articling students and non-members.
This program provides opportunities for interactivity. Each panel of speakers will invite and answer questions from attendees. In addition, between the formal CPD sessions, attendees are encouraged to mingle with speakers to follow up on further information on unresolved issues. There are scheduled breaks in the agenda to facilitate discussion and engagement between attendees and speakers.
The purpose of the CLA's annual Recent Call Conference is to provide educational programming tailored to the needs and interests of criminal defence lawyers in their first seven years of practice. The conference aims to be practical and offers a range of topics from substantive legal issues to practice management and ethical/professionalism issues. This year, we have seven sessions: 6 panel presentations ("Working with Legal Aid Ontario," "Challenging Search Warrants," "The Art of the Deal," "Marketing Yourself," "Preparing Your Client to Testify," and "Guilty Pleas"), as well as a keynote "fireside chat" with Justice Gloria Epstein of the Court of Appeal for Ontario.
---
he 46th Annual CLA Fall Conference Materials and the 4th Annual Recent Call Conference Materials can be purchased. Details to download the materials will be emailed with purchase receipt.
Fall Conference materials include:
Drug recognition experts (DREs)

Constitutional challenges to Bill C-75

The "f" Word – Fentanyl

Sexual harassment in the work place

Evidence

Technology in the courtroom

Experts in SCJ

15 Recent cases

What is effective advocac

y
Recent Call Conference materials include:
Working with Legal Aid Ontario

Challenging Search Warrants

I'm innocent! Now I want to plead guilty

Preparing Your Client to Testify
Materials pricing (both conferences included):
$40 plus HST: CLA members

$65 plus HST: 

Non-members
To purchase, please go to https://members.criminallawyers.ca/event-3131847 
NO REFUNDS. 
Please note that CPD credits cannot be claimed for only purchasing the materials. Attendance to each specific conference was required in order to claim.
---
Schedule
8:30 to 9 a.m.: Check in and light food and beverages
9 to 9:50 a.m.: Working with Legal Aid Ontario
Featuring:
Gordon Cudjoe, Case Manager – LAO, Former Defence Counsel (Toronto)
Darcy DesLauriers, Director, Lawyer Services and Payments. Legal Aid Ontario (Toronto)
Jordan Weisz, Defence Lawyer (Toronto)
9:50 to 10:50 a.m.: Challenging Search Warrants
Featuring:
The Honourable Justice Chris de Sa of the Superior Court of Justice (Newmarket)
Nathan Gorham, Rusonik, O'Connor, Robbins, Ross, Gorham & Angelini (Toronto)
Faisal Mirza, Defence Lawyer (Mississauga)
10:50 to: 11:10 a.m.: Break with one-minute moment of silence to remember sacrifices of members of the armed forces and of civilians in times of war.
11:10 a.m. to 12:15 p.m.: The Art of the Deal
Featuring:
Mary Cremer, Cremer Barristers (Toronto)
Daniel Del Gobbo, Adjunct Professor at Osgoode Hall Law School (Toronto)
Ann Marina Elias, Federal Crown (Toronto)
12:15 to 1 p.m.: Lunch & Keynote – In Conversation with Justice Gloria Epstein: Reflections on 25 Years on the Bench
1 to 1:50 p.m.: Creating an ethical brand and presence
Featuring:
Dan Brown, Daniel Brown Law Office (Toronto)
Anne Marie McElroy, McElroy Law (Ottawa)
Sean Robichaud, Robichaud's Barristers & Solicitors (Toronto)
1:50 to 2:40 p.m.: Preparing Your Client to Testify
Featuring:
Hussein Aly, Defence Lawyers (Toronto)
Stephen Bernstein, Bernstein, Newman and Associates (Toronto)
Kendra Stanyon, Defence Lawyer (Toronto)
2:40 to 3 p.m.: Break
3 to 4 p.m.: I'm innocent! Now I want to plead guilty
The Honourable Katherine McLeod, Ontario Court of Justice (Brampton)
The Honourable Ian Nordheimer, Court of Appeal for Ontario (Toronto)
Nicole Rozier, Moon Rozier Legal Professional Corporation (Brampton)
---
Sponsored by

Supported by

Doucette Furgiuele Ruffo
Barefoot Law Professional Corporation
Courtyard Chambers: John Dent, Lisa Freeman, Janet Leiper & Nadia Liva
Donald H. Crawford, QC
---
Cancellation Deadline:
Cancellations will be accepted if received in writing by 12 noon (ET) on or before November 1, 2018. Cancellations are to be sent to support@criminallawyers.ca. A $10 admin fee will apply. No refunds will be accepted on or after November 2. The substitution of registrants is not accepted unless emailed to support@criminallawyers.ca 36 hours prior to the event start time.The sharing of registrations is not permitted.
The CLA reserves the right to alter or cancel, without prior notice, any of the arrangements relating directly or indirectly to an event, for any circumstances beyond the CLA's reasonable control. If the CLA cancels the event, registrants will be offered a full refund. Should circumstances arise that result in the postponement of the event, registrants will have the option to either receive a full refund or transfer registration to the same event at the new, future date.
In the case of inclement weather, unless otherwise notified by CLA, the event will still take place. When the event proceeds as planned, there will be no refunds should attendees not be able to attend as a result of weather. The CLA will also not be liable to refund registration fees should the event be impacted by a transit strike, strike lock-out, accident, civil disturbance or any other cause whatsoever beyond their control.