43rd Annual Fall Conference – THE ESSENTIALS
Date: October 30 to 31, 2015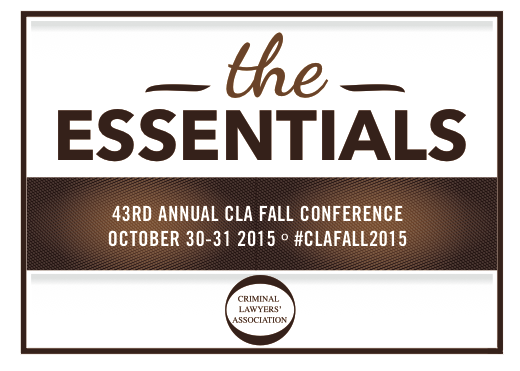 CONFERENCE LOCATION
Toronto Marriott Downtown Eaton Centre Hotel, 525 Bay Street, Toronto, ON
---
The 43rd Annual CLA Fall Conference – The Essentials program to be held on October 30-31, 2015 has been accredited for  3 hours and 55 minutes of Professionalism Content.  This program is also eligible for up to  5 hours and 50 minutes of Substantive Content.
---
CONFERENCE AGENDA
FRIDAY, OCTOBER 30, 2015
8:45 – 8:50 a.m. – Welcoming Remarks
Anthony Moustacalis, President, Criminal Lawyers' Association
8:50 – 9:30 a.m. – Promoting justice through a Neuropsychopharmacology lens
Dr. Carl Hart, Scientist, Education, Activist (New York, USA)
9:30 – 10:15 a.m. – Court Appointments and Counsel of Choice: What you need to know
The Honourable P. Andras Schreck, Ontario Court of Justice (Brampton)

Scott Hutchison, Henein Hutchison LLP (Toronto)

Jordan Weisz, Defence Lawyer (Toronto)
10:15 – 11 a.m. – Trials with co-accused, when friends become foes – Cutthroat defences
Moderator: Alison Mackay, Defence Lawyer (Brampton)


Anthony Bryant, Burstein Bryant Barristers (Toronto)

James Cavanagh (Ottawa)

The Honourable Matthew Webber, Ontario Court of Justice (Ottawa)
11:30 a.m. – 12:15 p.m. – Persuasive Jury Closings, American Style
Leon Carter, Carter Scholer Arnett Hamada & Mockler, PLLC (Dallas, USA)
12:15 – 1 p.m. – Are Searches Warranted?
The Honourable Steve Coroza, Superior Court of Justice (Brampton)

Dale Ives, Federal Crown (London)

Andy Rady, Defence Lawyer (London)

Moiz Rahman, Senior Counsel, Justice Canada (Toronto)
1 – 2:30 p.m. – Lunch – Advocacy lecture in memory of The Honourable Justice John Sopinka
Clayton Ruby, Ruby & Shiller (Toronto)
2:30 – 3 p.m. – Please don't say what happened next: The Lawyer's Role as Director in Examination in Chief
Sheila Block, Torys LLP (Toronto)
3 – 3:45 p.m. – Ethics and Professionalism in the Age of Social Media: Do's and Dont's
Phil Brown, Law Society of Upper Canada – Osgoode Hall (Toronto)

Professor Trevor Farrow, Osgoode Hall Law School (Toronto)

Jessyca Greenwood, Greenwood Defence Law (Toronto)

Robin Parker, Defence Lawyer (Toronto)
3:45– 4:15 p.m. – Cross Examining Police
Michael Edelson, Edelson Clifford D'Angelo Friedman LLP (Ottawa)
4:15 – 5 p.m. – Digital Disclosure and Defences: What to look for and how to present it
Gerald Chan, Stockwoods LLP (Toronto)

The Honourable J. Michal Fairburn, Superior Court of Justice (Brampton)

Susan Magotiaux, Crown Law Office Criminal (Toronto)
SATURDAY, OCTOBER 31, 2015
9 – 9:45 a.m. – DEFENCE COUNSEL UNDER FIRE: What to do if the unthinkable happens. Practical and ethical considerations

Stephen Bernstein, Bernstein, Newman and Associates (Toronto)

Laura Liscio, Defence Lawyer (Toronto)

Louis Sokolov, Employment Law, Sotos (Toronto)
Anne London-Weinstein, Weinstein Law (Ottawa)
9:45 – 10:30 a.m. – Five Questions About Section 24(2) of the Charter
The Honourable James Stribopoulos, Ontario Court of Justice (Brampton)
11 – 11:45 a.m. – How to bullet proof yourself from an ineffective assistance of counsel claim
Erika Chozik, Defence Lawyer (Toronto)

Lindsay Daviau, Kapoor Barristers (Toronto)

The Honourable Michael Tulloch, Court of Appeal for Ontario (Toronto)

Alison Wheeler, Attorney General (ON) Crown Law (Toronto)
11:45 a.m. – 12:45 p.m. – The Rule of Law in an Age of Fear:
Omar Khadr and the Rise of Anti-Terrorism Legislation
Dennis Edney (Edmonton, AB)
1 – 3 p.m. – Lunch – Presentation of the G. Arthur Martin Criminal Justice Award to
Mark Sandler, Cooper, Sandler, Shime & Bergman LLP (Toronto)