3rd Annual Mental Disorder and Criminal Justice Conference: "Beyond Fitness and NCR – Mental Health in Criminal Justice"
Date: Saturday, April 28, 2018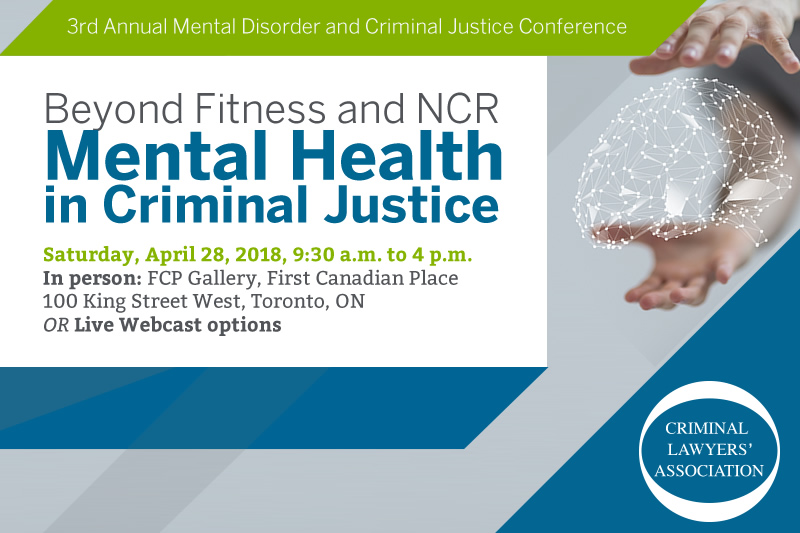 Hosted by the Criminal Lawyers' Association (CLA) and the Law and Mental Disorder Association (LAMDA)
Recorded on Saturday, April 28, 2018, 9:30 a.m. to 4 p.m.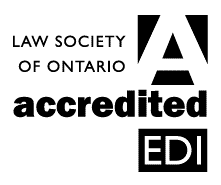 This program contains 1 hour of Professionalism Content.
This program contains 40 minutes of EDI Professionalism Content.
This program is eligible for up to 3 hours, 10 minutes of Substantive hours.
---
Only Professionalism Hours must be accredited by the Law Society. Lawyers and paralegals must determine for themselves whether an activity is an eligible educational activity for CPD and qualifies for Substantive Hours. For more information about Substantive Hours, please see CPD Requirement.
Increasingly, individuals with mental health issues are becoming entangled in the criminal justice system. These clients present unique challenges for defence counsel. Solicitor-client relationships may be complicated, and the law is no simpler. Defence counsel require specialized knowledge and skills to deal with psychiatric issues that crop up throughout the criminal law process.
Come hear leading practitioners and new lawyers identify ethical and professional pitfalls and offer strategies to successfully manage cases involving a wide variety of mental health issues.
This year we move beyond the basics of fitness and NCR. We will explore an explosion of new cases coming out of our Court of Appeal in 2017 giving appellate guidance to the ORB and stake-holders on interpretations of the Mental Disorder provisions of the Code.  We begin basic learning about civil mental health law as we must understand in the context of defending our clients.  We also examine what happens in the community, including problematic interactions of police with individuals in crisis which lead to lethal outcomes.
---
AGENDA:
9:30 – 10:00 a.m. Check-In and Networking
10:00 – 10:05 a.m. Opening Remarks – Webcast begins
10: 05 – 10:25 a.m. "Get Me Out of Here!" – Advocating for Liberty Interests and Health Care Interests at the Bail Stage
Featuring:

Michael Callaghan, Ministry of Attorney General (Toronto)
Cassandra DeMelo, Defence Lawyer (London)
The Honourable Wendy Harris Bentley, Ontario Court of Justice (London)

10:25 – 10:50 a.m. Using Civil Orders to help Criminal Clients: "You say invasive, I say persuasive!"
Featuring:

Christel Francis (Newmarket)

Christopher Hynes (Toronto)

Mary Murphy, Defence Lawyer (Toronto)

10:50 – 11:10 a.m. "Significant Risk of Significant Harm" – the test for ongoing Review Board jurisdiction
Featuring:

Michael Davies, Defence Lawyer (Ottawa)

Michael Feindel

, Crown Attorney's Office 

(Toronto)

11:10 a.m. – 12:00 noon. The 12 Minute Mental Disorder Lawyer – Five Leading Cases in 2017
Featuring:

Dean Embry, Defence Lawyer (Toronto)

Sarah Lawson, Defence Lawyer (Milton)

Meaghan McMahon, Defence Lawyer (Ottawa)

Andrew Menchynski, Defence Lawyer (Toronto)

Brendan Neil, Defence Lawyer (Oakville)

12:00 – 12:45 p.m. LUNCH BREAK
12:45 – 1:15 p.m. Keynote Address – Remembering the late Justice Marc Rosenberg and his Contribution to Mental Disorder Law and Access to Justice
Featuring:

Caroline Mandell, Legal Writing Coach (Toronto)
Jill Presser, Defence Lawyer (Toronto)

1:15 – 2:00 p.m. "Fit to Be T(r)ied: Forensic Assessments In Custody vs. In Hospital re fitness/ NCR"
Featuring:

Dr. Graham Glancy, Associate Professor, University of Toronto (Toronto)
The Honourable Jeanine LeRoy, Ontario Court of Justice (London)
Keli Mersereau, Defence Lawyer (St. Thomas)

2:00 – 2:15 p.m. Seclusion and Restraint in Psychiatric Facilities – not always Asylum
Featuring:

Anita Szigeti, Defence Lawyer (Toronto)
Carla Whillier, Mental Health and Elder Law Lawyer

2: 15 – 2:30 p.m. BREAK
2:30 – 3:10 p.m. In Crisis and In the Community – Police Interactions Leading to Lethal Outcomes
Featuring:

Jennifer Chambers
Dr. David Eden
Roy Wellington (Toronto)
Inspector Chris Boddy, Toronto Police Service

3:10 – 3: 40 p.m. "Everything You Ever Wanted to Know about the Civil Mental Health System … but were afraid to ask"
Featuring:

Kelley Bryan, PBP Lawyers (Toronto)
Dr. Mark Pearce, MD, FRCPC, Forensic Psychiatrist, Ontario Shores Centre for Mental Health Sciences; Assistant Professor, University of Toronto (Toronto)
Thomas Whillier

3:40 – 3:55 p.m. How to get Paid – Legal Aid Update
Featuring:

Jordan Weisz, Defence Lawyer (Toronto)

Darcy DesLauriers, Director, Lawyer Services and Payments, Legal Aid Ontario
A.J. Grant-Nicholson, Policy Counsel, Mental Health Strategy, Legal Aid Ontario 

3:55 – 4:00 p.m. Closing Remarks
---
Webcast Recording and Materials:
$50 plus HST: CLA Full/Observer/LAMDA Members
$100 plus HST: Non-Member Practicing Lawyer, Paralegal or other professionals
Purchase the webcast recording and materials by going to https://members.criminallawyers.ca/event-3697306
---
This conference was kindly sponsored by:
Leila Feldman, M.A., C.A.M.F., OACCPP
(Masters in Psychological Counselling,  Certified Anger Management Facilitator, member of the Ontario Association of Consultants, Counsellors, Psychometrists and Psychotherapists)
leila.feldman7@gmail.com
www.LeilaFeldman.com
416-706-9315
Leila Feldman has been in private practice since 2006 specializing in anger management. Most of her client base have charges before the courts that require an intensive, individually tailored anger management program.