2023 Annual Spring Conference
Date: Saturday, June 17, 2023, 9 a.m. to 2 p.m.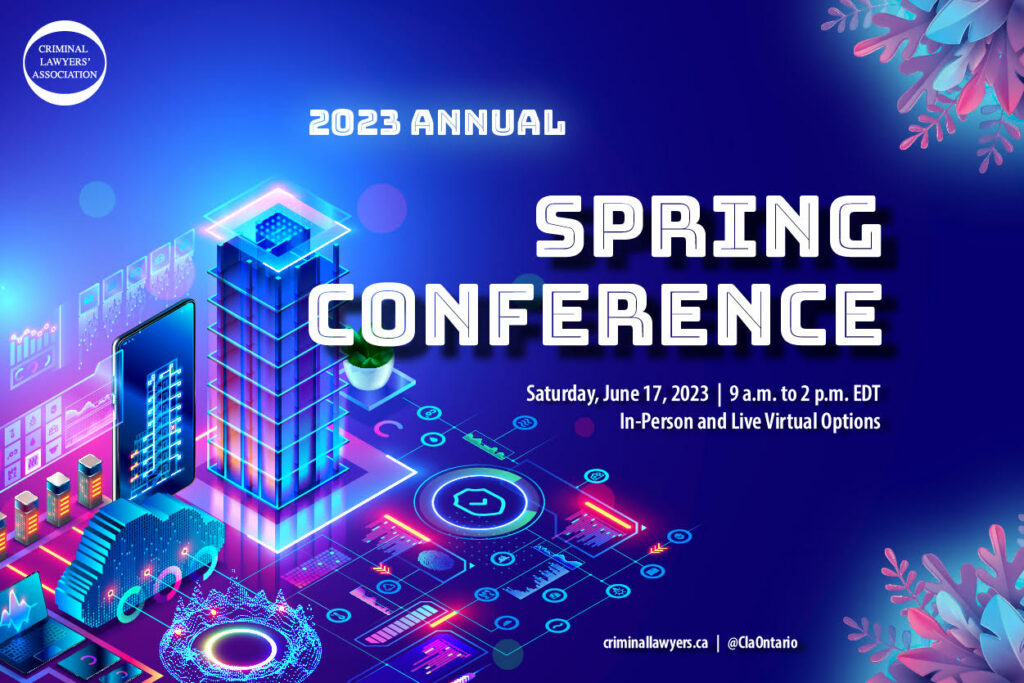 Saturday, June 17, 2023, 9 a.m. to 2 p.m.
In-person and Virtual options
In-person: 20 Toronto Street, 2nd Floor, Toronto ON M5C 2B8

CPD CONFIRMED:
One hour and 30 minutes of Professionalism content.
Two hours and 25 minutes substantive (if hours are not needed for professional they can be added to substantive)
Plus: Approved for LAWPRO's Risk Management Credit
AGENDA, TOPICS & SPEAKERS
9 to 9:03 a.m.: Welcome from George Joseph, Co-Chair, Spring Conference, CLA Director (Thunder Bay)
9:03 to 9:40 a.m.: The Intersection of Criminal Law and Immigration Law
9:40 to 10:10 a.m.: Setting Your Client up for Parole Success
10:10 to 10:40 a.m.: The Old Razzle Dazzle, Canadian-Style: The Ethics of Trial Advocacy
10:40 to 10:55 a.m.: Break
10:55 to 11:35 a.m.: Brushing up on Fitness, NCR and other Mental Health Law Considerations
11:35 a.m. to 12:15 p.m.: Ensuring Your Client's Accessibility Needs Are Met
12:15 to 12:35 p.m.: Abuse of Process: Knowing When and How to Bring the Application

12:35 to 1 p.m.: Top 5 under 5: The 5 Cases to Know from the Past Year
1 p.m.: Closing from Cassandra DeMelo, Co-Chair, Spring Conference, CLA Vice President, DeMelo Law Professional Corporation
1 to 2 p.m.: Special CLA Members Meeting
Special presentation by Kate Matthews, (MAG) – brief information session on Justice Centre.
Special presentation to CLA members on proposed by-law updates. Preview the proposed updated by-laws here. Changes have been highlighted in yellow.
REGISTRATION
As a result of the continued impact of the pandemic on our members, we continue to offer reduced Spring Conference Registrations fees for members. The price for in-person and virtual is the same enabling registrants to switch preference up to 48 hours in advance with no penalty. There are no refunds. Recordings, pending quality, will be made available for viewing to registrants only up to September 30, 2023. We will not be selling access to the recordings separately.
$55 plus HST: CLA Junior Active & Junior Observer Members
$75 plus HST: CLA Senior Active, Senior Observer & Affiliate Members
$30 plus HST: CLA Student Members
$150 plus HST: Non-members – open to all legal professionals*
$1o0 plus HST: Non-member students*
REGISTER ONLINE BY GOING TO https://members.criminallawyers.ca/event-5252349 OR CALL the CLA office with credit card information during business hours at 416-214-9875.
* Not a member? Join online by going to https://members.criminallawyers.ca/joinus or call the CLA office during business hours to renew your membership (Monday to Friday, 9 a.m. to 5 p.m., ED, 416-214-9875)
_________________________________________________
PLEASE REVIEW IF CONSIDERING REGISTERING FOR THE IN-PERSON OPTION:
We recommend all in-person attendees be fully vaccinated.
The venue will be following all local government protocols.
CONFERENCE VIRTUAL OPTION:
All presentations will be LIVE broadcast and recorded.
When there is time, all registrants will have the opportunity to ask speakers questions.
It is up to each registrant to ensure they have a strong internet connection prior to the event.
Access information to the Virtual Hub will be emailed to all registrants at least 48 hours before the start date and will be sent to the email address entered when registering.
It is up to each registrant to ensure they have the Virtual Hub link and test access before the conference start date. Be sure to check your spam and junk boxes. The CLA is not responsible if you cannot locate the access link or if you have access issues. If you are not able to locate the access information by 9 a.m., June 16, please email support@criminallawyers.ca. It is the responsibility of each registrant to ensure they have the access information.
SPONSORS
Platinum Sponsor
Gold Sponsors

Silver Sponsors
CosmoLex
Petrone Partners
Bronze Sponsor
Alan Richter