2022 Annual Spring Conference
Date: Saturday, June 18, 2022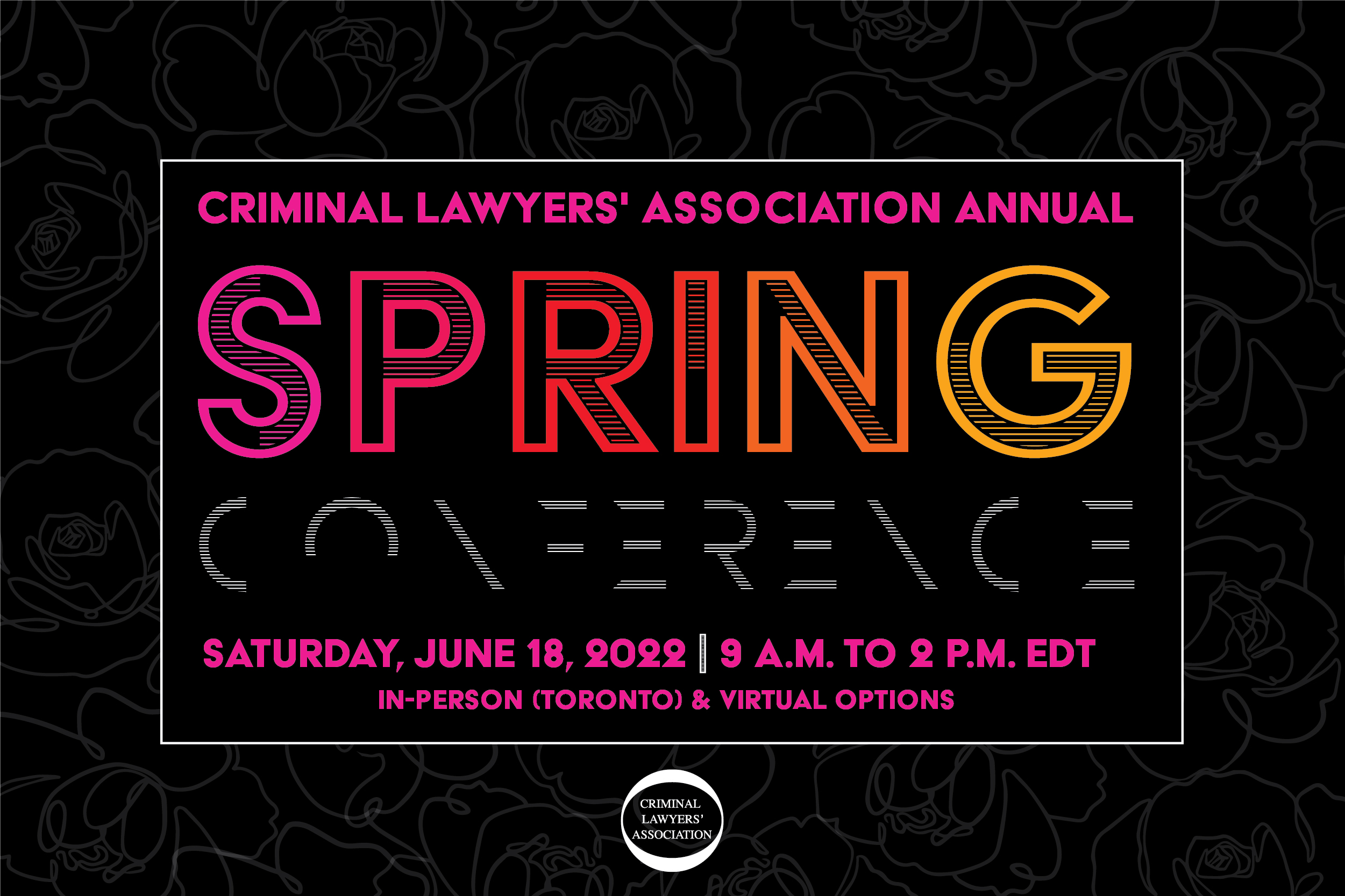 Saturday, June 18, 2022.
In-person and Virtual options
In-person:
INTERCONTINENTAL®
TORONTO CENTRE
225 Front Street West, Toronto, ON M5V 2X3
Ballroom B
CPD CONFIRMED:
One hour and 25 minutes of Professionalism content.
Three hours and 10 minutes substantive (if hours are not needed for professional they can be added to substantive)
Plus: Approved for LAWPRO's Risk Management Credit
AGENDA, TOPICS & SPEAKERS
9 to 9:03 a.m.: Welcome from George Joseph, Co-Chair, Spring Conference, CLA Director (Thunder Bay)
9:03 to 9:40 a.m. Garofoli Applications: Is running one any more straightforward yet?
9:40 to 10:10 a.m.: Digital Disclosure & Technology: The tools COVID has forced us to learn
10:10 to 10:40 a.m.: Lawyers Financial Presentation on Pensions: Not just for Crowns anymore!
10:40 to 10:55 a.m.: Break
10:55 to 11:35 a.m.: Sex Assault Files: The current state of the law regarding mistake of age, and intoxication
11:35 a.m. to 12:15 p.m.: Self Defence: A review of recent changes
12:15 to 12:30 p.m.: Break
12:30 to 1:05 p.m.: Ineffective Assistance of Counsel: What to know, and how to avoid them
1:05 to 1:35 p.m.: 11(b) in the age of COVID: not all delay is exceptional!
1:35 to 1:58 p.m.: Dealing with Difficult Criminal Justice Stakeholders: "How to win [Crowns] and influence [Judges]"
1:58 to 2 p.m.: Closing from Cassandra DeMelo, Co-Chair, Spring Conference, CLA Vice President, DeMelo Law Professional Corporation
REGISTRATION
As a result of the impact of the pandemic on our members, we continue to offer reduced Spring Conference Registrations fees for members. The price for in-person and virtual is the same enabling registrants to switch preference up to 48 hours in advance with no penalty. There are no refunds. Recordings, pending quality, will be made available for viewing to registrants only up to September 30, 2022. We will not be selling access to the recordings separately.
$45 plus HST: CLA Junior Active & Junior Observer Members
$65 plus HST: CLA Senior Active, Senior Observer & Affiliate Members
$25 plus HST: CLA Student Members
$150 plus HST: Non-members – open to all legal professionals*
$100 plus HST: Non-member students*
REGISTER ONLINE HERE: https://members.criminallawyers.ca/event-4822925
* Not a member? Join online by going to https://members.criminallawyers.ca/joinus or call the CLA office during business hours to renew your membership (Monday to Friday, 9 a.m. to 5 p.m., ED, 416-214-9875)
_________________________________________________
PLEASE REVIEW IF CONSIDERING REGISTERING FOR THE IN-PERSON OPTION:
We recommend all in-person attendees be fully vaccinated.
We are implementing measures to reduce the risk of infection among all those that attend in person.
We recommend in-person attendees wear a mask (remove if presenting/eating/drinking).
The venue will be following all local government protocols.
CONFERENCE VIRTUAL OPTION:
All presentations will be LIVE broadcast and recorded.
When time, all registrants will have the opportunity to ask speakers questions.
It is up to each registrant to ensure they have a strong internet connection prior to the event.
Access information to the Virtual Hub will be emailed to all registrants at least 48 hours before the start date and will be sent to the email address entered when registering.
It is up to each registrant to ensure they have the Virtual Hub link and test access before the conference start date. Be sure to check your spam and junk boxes. The CLA is not responsible if you cannot locate the access link or if you have access issues. If you are not able to locate the access information by 9 a.m., June 17, please email support@criminallawyers.ca. It is the responsibility of each registrant to ensure they have the access information.
_________________________________________________
THANK YOU TO OUR GENEROUS SPONSORS:
Platinum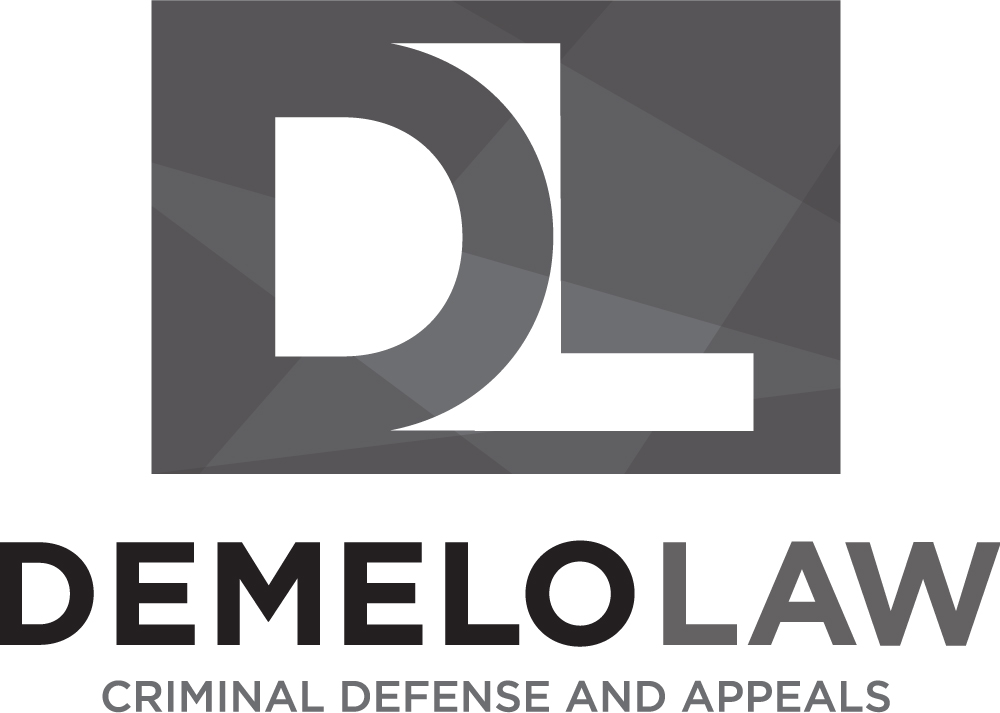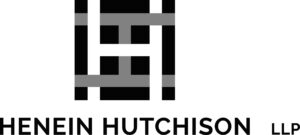 Gold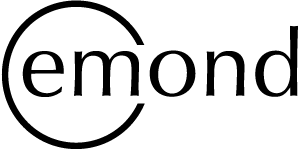 Silver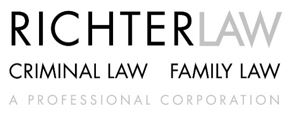 Bronze