2019 Annual CLA Spring Conference
Date: Saturday, June 8, 2019 from 7:50 a.m to 1:15 p.m.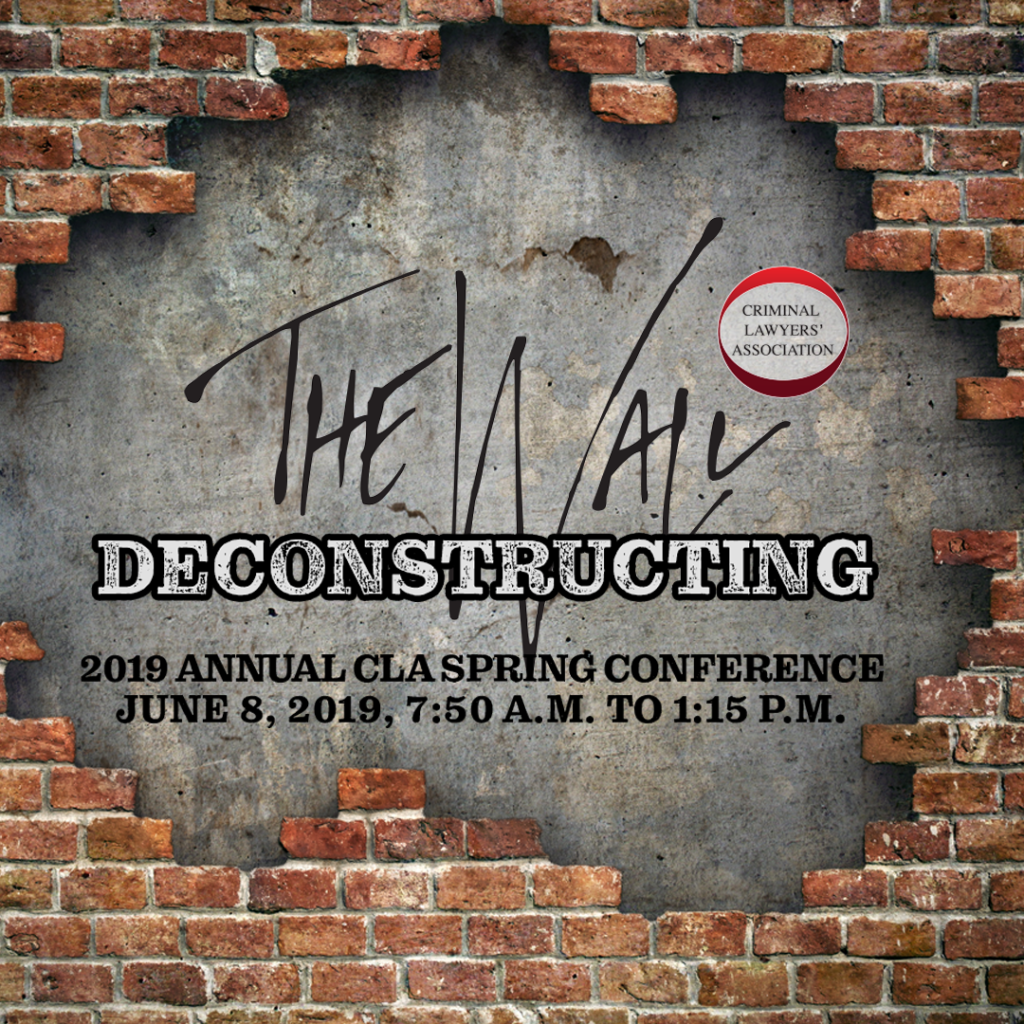 Saturday, June 8, 2019, 7:50 a.m. to 1:15 p.m.
In person: Law Society of Ontario (LSO), Donald Lamont Learning Centre, 130 Queen Street West, Toronto (includes Continental breakfast)
Live webcast also provided
The 2019 Annual CLA Spring Conference – Deconstructing the Wall held on June 8, 2019 has been accredited for 1 hour of EDI Professionalism Content and 2 hours and 20 minutes of Professionalism content. 1 hour and 25 minutes substantive (if hours are not needed for EDI and/or professional they can be added to substantive)
Agenda, Topics, Speakers
7:50 to 8:10 a.m.   Registration (Donald Lamont) with Continental Breakfast served
8:10 to 8:15 a.m.   Welcome and Introductions (webcast begins)
8:15 to 9 a.m.       "We Don't Need No Education"…unless we are now trying to make sense of  the new drug/alcohol impaired regime
Philip Perlmutter, Crown Attorney 
The Honourable Moiz Rahman, Ontario Court of Justice 
Jonathan Rosenthal, Defence Lawyer 
9 to 10 a.m.         "We Don't Need No Thought Control"…taking control of a fraud case
Grace Hession David, Ministry of the Attorney General
The Honourable Rita Maxwell, Ontario Court of Justice 
Amanda Ross, Cooper, Sandler, Shime & Bergman LLP 
10 to 10:45 a.m.   "No Dark Sarcasm In The Courtroom"…And if there is – make sure it is all on the record for the appeal
Janani Shanmuganathan, Defence Lawyer 
Breana Vandebeek, Rusonik, O'Connor, Robbins, Ross LLP  
The Honourable J. David Watt, Court Martial Appeal Court of Canada; Court of Appeal for Ontario 
10:45 to 11 a.m.    Break
11 to 11:45 a.m.  "Hey, Teacher, Leave Those Kids Alone"…racism and policing
Professor Scot N. Wortley BA, MA, PhD 
Professor Akwasi Owusu-Bempah BA, MA, PhD 
11:45 to 12:30 p.m. "All We Are Is Just Another Brick In The Wall"…top 5 under 5
Ayesha Abbasi, Defence Lawyer (2015)
Janelle Belton, Defence Lawyer (2016)
Sonny Dudani, Defence Lawyer (2017)
Hubert Gonzalez, Defence Lawyer (2014)
Ashley Sewrattan, Defence Lawyer (2018)

12:30 to 1:15 p.m. "If You Don't Eat Your Meat, How Can You Have Any Pudding"…making sure your work volume and client needs don't take over your life
John Erickson, Defence Lawyer
The Honourable Janet Leiper, Superior Court of Justice of Ontario 
Nadia Liva, Courtyard Chambers 
Webcast & Materials Pricing:
CLA

Member:

$50 + HST
Non-Member: $75 + HST
Purchase: 
Purchase online by going to https://members.criminallawyers.ca/event-3451204 or call the CLA office with Visa, Amex or Mastercard, Mon-Fri 9 a.m to 5 p.m. at 416-214-9875.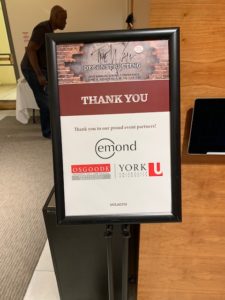 Partners: