2015 Annual Spring Conference
Date: Saturday, May 30, 2015, 8 a.m. to 1 p.m.
Saturday, May 30, 2015, 8 a.m. to 1 p.m., The Law Society of Upper Canada, Lamont Learning Centre, 130 Queen St. West, Toronto, ON
In-Person and LIVE Webcast registration options available. Registration includes a PDF copy of event materials.
CPD CONFIRMED - The Criminal Lawyers' Association 2015 Annual Spring Conference – Let the Games Begin program being held on May 30, 2015 has been accredited for 0 hr 45 min Professionalism Content. This program is also eligible for up to 3 hr 15 min Substantive Content.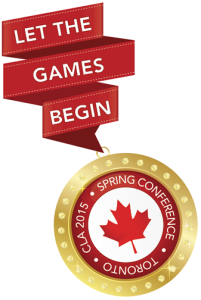 Sessions Include:
Opening Comments and Welcome (8:20 to 8:30)
Staying at the Games: Demystifying Immigration Law in the Criminal Context (8:30 to 9:15)
FEATURING:
John Norris (Toronto)
Melinda Gayda, Refugee Law Office (Toronto)
Drug Testing: A CDSA Update (9:15 to 10:15)
FEATURING:
Alan Young, Osgoode Hall Law School (Toronto)
Carolyn Hayes, Public Prosecution Service of Canada (Toronto)
I want to see the replay: An Appellate Law Primer (10:15 to 11)
FEATURING:
The Top of the Podium: A Supreme Court Update (6 in 6 under 6) (11:30 to 12:15)
FEATURING:
Playing Fair: Ethics with Alan Gold (12:15 to 1)
FEATURING:
Alan D. Gold, Alan D. Gold Professional Corporation (Toronto)
Registration Details:
All registrants will receive a PDF copy of the conference materials within 24 hours of the event to the email provided when registering. Printed materials are not available for order and will not be provided.
In-person and LIVE webcast options available. Registrants will be asked to select option when registering. Webcast registrants will be sent log-in information for the webcast within 24 hours of the session and to the e-mail provided when registering.
Register online, and get an instant receipt and confirmation, by going to http://www.karelo.com/register.php?BID=372&BT=10&Ev=15298
To download a registration form that can be mailed, emailed or faxed to the CLA office, please click here.
CLA Members – new lower pricing for members:
CLA Full or Observer members who completed the bar in 2010 or before: $100 plus HST ($113)
CLA Full or Observer members who competed the bar in 2011 or after: $85 plus HST ($96.05)
CLA Articling Student members: $70 plus HST ($79.10)
CLA Student members (currently enrolled in law school): $55 plus HST ($62.15)
Non-Members:
Non-member lawyers: $175 plus HST ($197.75)
Non-member Articling Students and Students: $125 plus HST ($141.25)
Program Planning Committee:
Craig Bottomley and Karen Jokinen