The Unspoken Path: Returning to Practice after Mental Health Leave
Date: Thursday, August 26, 6 to 7:30 p.m.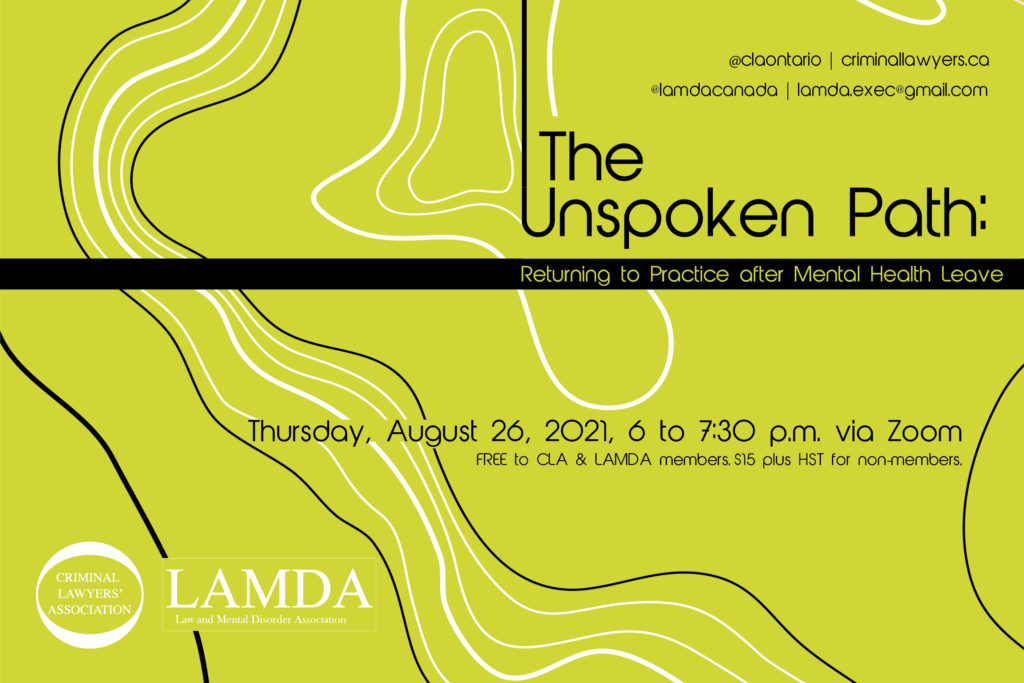 This event will discuss practicing law with mental health realities, ways to return to practice after taking mental health leave, and what to look for to help prevent mental distress while practicing. It will include strategies for helping build a mindset to return to law, identifying triggers in our work, and realizing that we are not alone in facing these challenges. This event will not be recorded.
CPD CONFIRMED:
45 minutes of Professionalism content.

This program contains 40 minutes of EDI Professionalism Content.

5 minutes substantive (if hours are not needed for professional they can be added to substantive)
SPEAKERS:
Tasha Donnelly, Barrister, Solicitor & Public Notary (Ontario), Hons. B.Sc (she/her)
Tasha clerked with the Superior Court of Justice in Windsor, and then entered the legal fray as a sole practitioner. She works as a criminal defence counsel and as Tenant Duty Counsel at the Landlord & Tenant Board. She has a particular focus on assisting people with addiction issues, and people legislated into poverty by Ontario's social assistance programs. Tasha manages her mental and physical health in practice with medication, meditation, and gardening. She has taken two leaves from practice and been welcomed back both times, despite being convinced that her career was done for. She's trying to turn that into something positive by talking about it, even though it's still deeply unsettling most of the time.
Daniel Medd, Barrister & Solicitor, B.Comm. (Hons.), LL.B (he/him)
After discovering in law school that criminal law was far more interesting than any area he thought his commerce degree would be useful for and then being called to the Bar in 2006, Dan struck out on his own into the wonderful, fascinating and challenging world of representing the poor folks who find themselves ensnared by the criminal justice system, with a particular focus on those with serious mental illness, at trial and appeal as well as before the Ontario Review Board. After defending a young person charged with serious offences at a trial that dragged on for years and years (and years), traumatizing everyone involved, Dan decided to take a break from practice to regroup. He returned in 2017, adding civil mental health law to his repertoire by representing individuals with matters before the Consent and Capacity Board. When not hacking away, among other things, Dan enjoys the company of his beloved dog Atticus and watching as many movies as possible, closing in on #5,000 (yes, there's a list). 
Liane Wood, Registered Psychotherapist and a Certified Havening Techniques® Practitioner, Rethink Me (she/her)
Liane Wood (She/Her) is passionate about all things relating to mental health. She is a Registered Psychotherapist (RP), who has combined her education in the mental health field with her own personal experiences. Liane has a private practice in Belleville Ontario and serves as an executive board member with a professional association for RP's; the Ontario Society of Registered Psychotherapists (OSRP). After a number of traumatic events, in 2013 Liane was involved in a successful high risk ice water rescue. In the aftermath of 2013, she was publicly given a medal of bravery from Canada's Governor General and received a Carnegie Medal, while privately suffering from PTSD. Her work in her practice today focusses on helping individuals overcome the effects of trauma, breaking down stigmas relating to mental health and facilitating conversations about mental health.

REGISTRATION:
FREE for CLA and LAMDA members
$15 plus HST for non-members
Register online by going to. https://members.criminallawyers.ca/event-4422329
We will be using Zoom for this event. Speakers will be on camera. However, attendees have the option to display their names or not as well as to have their camera on or off.
SPECIAL INSTRUCTIONS:
A link to access the live virtual event will be included in your registration confirmation.  Be sure to check your spam/junk folder. If you have not received the link to the webcast by noon of the day of the event, please email support@criminallawyers.ca. It is the responsibility of the registrant to make sure they have the access information.
It is up to each registrant to ensure they have a strong internet connection prior to the event. Please be sure to test before the event start time on the day of the event.
Chrome is the best browser for accessing the event. Should you have any issues accessing the event, please try:
Close any programs/windows other than the webcast;
Check your firewall settings as they may be preventing access to the webcast.
The CLA will do its best to manage any IT issues during the webcast, but please note that individual participant computer settings and internet connection are out of our control. We will do our best to assist when possible. Should you experience any issues while the webcast is happening, please email web@criminallawyers.ca and we will do our best to assist right away.