Criminal Lawyers' Association Presents: CPD in Cancun
Date: 19 Jan 2024, 6:00 PM - 21 Jan 2024, 10:30 AM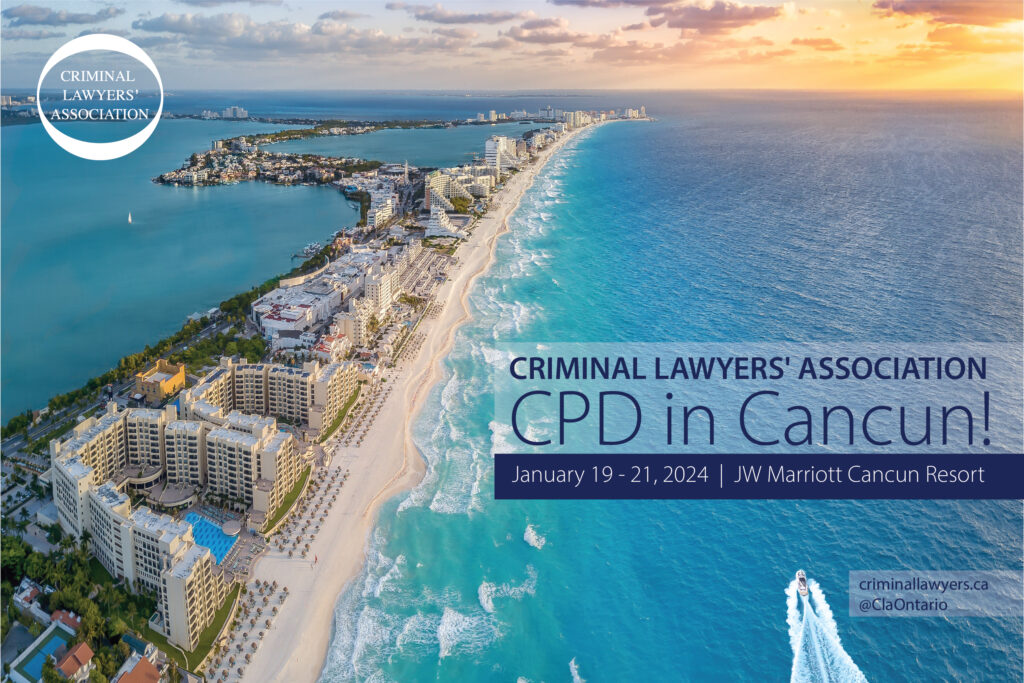 JW Marriott Cancun Resort & Spa, Blvd. Kukulcan, Km 14.5, Lote 40-A, Zona Hotelera Cancun, Quintana Roo 77500 
19 Jan 2024, 6:00 PM – 21 Jan 2024, 10:30 AM 
CPD CONFIRMED:
One hour of Professionalism content.
Four hours and 10 minutes substantive (if hours are not needed for professional they can be added to substantive)
We are pleased to announce the CLA inaugural CPD event outside of Canada! We are hosting this conference, January 19-21, 2024 at the beautiful JW Marriott Cancun.
The resort is located in the Cancun hotel zone where there are lots of local restaurants and attractions within walking distance (and 6.8 miles away from the CUN airport.) Direct flights are easy to find and the weather in January is quite reliable. We chose a hotel with an adult pool and a child-friendly pool. Conference attendees are welcome to bring their families and children (just not to the actual conference sessions).
The conference will not be recorded or live streamed as attendance must be in-person. Conference attendees will have plenty of time to enjoy the sun and local activities after the breakfast sessions are completed.
Each registrant MUST book* at the JW Marriott Cancun in order to attend the conference. Rooms are selling fast, so book as soon as possible.  The latest registrants can book a room is by December 5, 2023 – but that is only if rooms are still available. Details on how to book at a special rate of $319 USD per night will be included in your event registration confirmation email. We have a room block for "Run of Ocean' rooms. The hotel will not be all-inclusive as those hotels are generally adult-only and the cost was not attractive nor do we want to encourage excessive drinking at a CLA event. However, please note under the Agenda the food/beverages the CLA will be providing as part of your registration.
*Note, registrants that book at a different resort will NOT have access to the Conference. We require registrants to book their own room at the JW Marriott Cancun for the conference nights in order to participate.
Guests that book as part of our room block, the below will be included*:
Daily internet up to ten devices including enhanced internet.
Two complementary snacks items per stay placed in your room (Minibar items not included).
Two complimentary pressing services per day.
Two complimentary coffees per stay in retail shop.
Two complimentary scrub bar per stay in Spa.
One-hour tennis court usage per day. Reservations required.
Daily fitness class for two at pool deck.
Complimentary selected Mexican Dessert at Bravio for two people, per stay.
Weekly dancing lesson for two people per stay.
Daily guacamole station at lobby bar 5 pm to 6 pm.
Wine tasting for two, one per stay. Reservations required.
*A resort fee of $35 USD per night for the above will appear when booking, but will be waived once you check-in at the resort. Restrictions may apply.
The Conference Agenda will be as follows:
FRIDAY, JANUARY 19, 2024 – 6 to 8 p.m.
Itinerary Overview and Welcome by Michelle Johal and Adam Weisberg (5 mins)
Alan D. Gold – Welcome Lecture: Being the Best Criminal Lawyer You Can Be (30 mins)
Patio Margherita and Beer Reception
SATURDAY, JANUARY 20, 2024,  8 to 10:30 am (breakfast will be provided)
Scott Hutchison –  Recent Search & Seizure Issues (40 mins)
David Humphrey and Jill Makepeace – Witness Preparation of the Accused (60 mins)
Kim Schofield – Tactics to Expose Dishonest Police Officers (40 mins)
SUNDAY, JANUARY 21, 2024, 8 to 10:30 am (breakfast will be provided)
Gerald Chan and Nader Hasan – Defending White-Collar Crime and Regulatory Cases (60 mins)
Michael Lacy  – Wiretap Authorizations (40 mins)
Julianna Greenspan – Canadian Extradition Law (40 Mins)
CONFERENCE REGISTRATION (CDN)*:
Early Bird – on or before June 1, 2023- CLOSED
$500 plus HST: CLA Members

$1,000 plus HST: Non-member criminal defence lawyers, students and paralegals

$500 plus HST: Crown Attorneys and Judges
On-Time – register between June 2 and September 1, 2023- CLOSED
$700 plus HST: CLA Members

$1,000 plus HST: Non-member criminal defence lawyers, students and paralegals

$700 plus HST: Crown Attorneys and Judges
Late – register between September 2, 2023 and January 10, 2024 (space permitting)
$800 plus HST: CLA Members

$1,000 plus HST: Non-member criminal defence lawyers, students and paralegals

$800 plus HST: Crown Attorneys and Judges
* You should speak to your own tax professional about the potential to "write-off" this conference trip.
REGISTER TODAY!
To register, please go to https://members.criminallawyers.ca/event-5207299 or call the CLA office during business hours to register over the phone with credit card information. Call 416-214-9875.
Please note we do not offer a one-day rate. There is no sharing of registrations. Cancellations will be accepted in writing if received by 12 noon (ET) on or before December 1, 2023. Cancellations are to be sent to support@criminallawyers.ca. A $35 admin fee will apply. No refunds will be accepted on or after December 2. The substitution of registrants is not accepted unless emailed to support@criminallawyers.ca by January 10.  The CLA reserves the right to alter or cancel, without prior notice, any of the arrangements relating directly or indirectly to an event, for any circumstances beyond the CLA's reasonable control. If the CLA cancels the event, registrants will be offered a full refund. Should circumstances arise that result in the postponement of an event, registrants will have the option to either receive a full refund or transfer registration to the same event at the new, future date. In the case of inclement weather, unless otherwise notified by CLA, the event will still take place. When an event proceeds as planned, there will be no refunds should attendees not be able to attend as a result of weather. The CLA will also not be liable to refund registration fees should the event be impacted by a transit strike, strike lock-out, accident, civil disturbance or any other cause whatsoever beyond their control.
Sponsors
Platinum Sponsor
Gold Sponsors
Silver Sponsor
Robertson Law Ontario Employment Lawyers